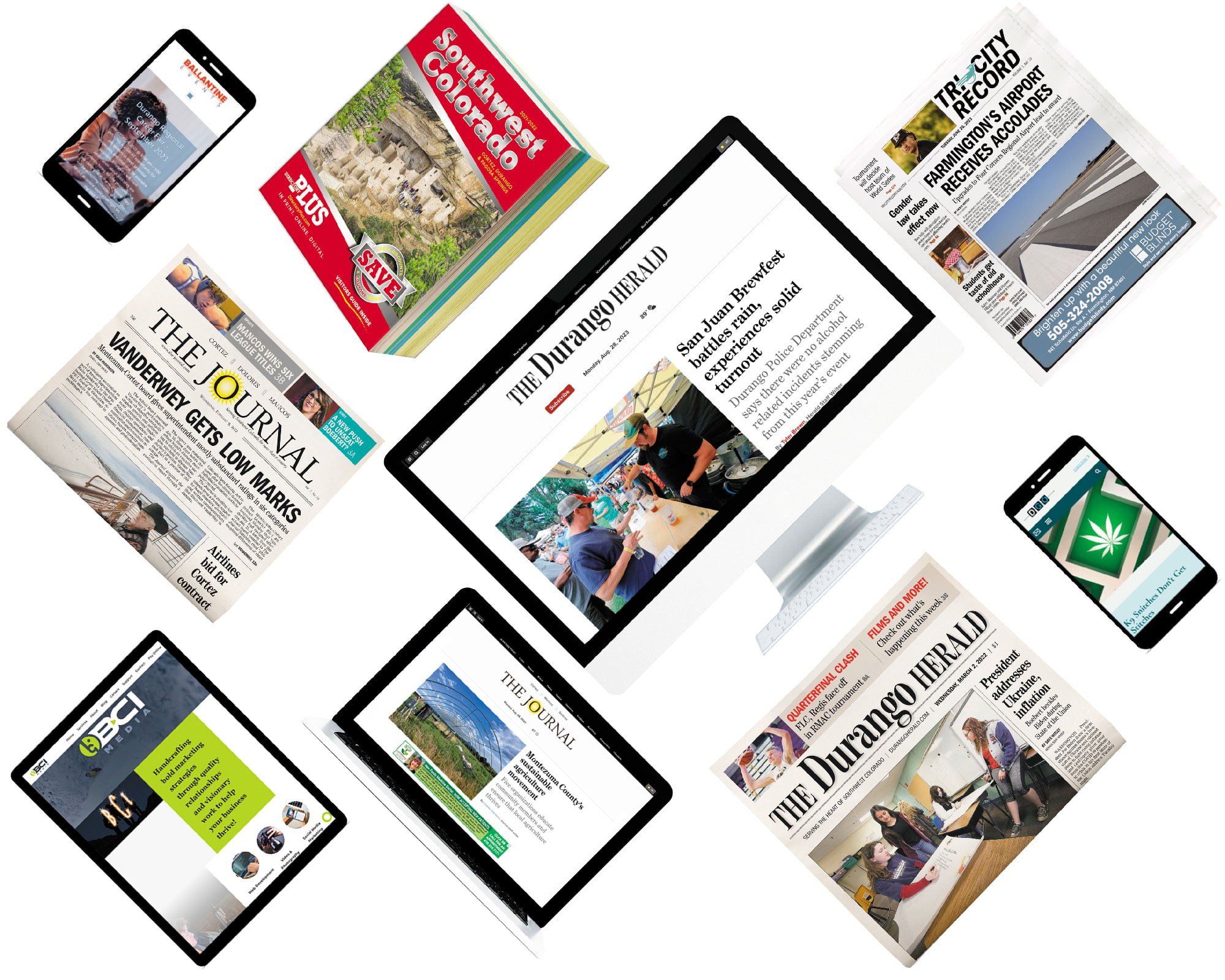 Ballantine Communications
---
We are a multimedia company headquartered in Durango, Colorado, and servicing the Four Corners Region.
We offer the community and businesses a diverse range of services. We publish the news in print and online, create digital marketing strategies and business solutions, design creative content and organize local events.

The Durango Herald serves a critical role in our community and region, and we are lucky that we have a local paper that is owned by folks who are part of our community. Perhaps as important a question as the one you ask is what we need to do to ensure that the situation doesn't change
~ The Durango Herald Readership Study, 2022

We appreciate local and regional coverage of environmental issues, political topics, and interesting people and places in our community.
~ The Durango Herald Readership Study, 2022

Overall, I appreciate and feel satisfied with the coverage that Durango Herald provides.
~ The Durango Herald Readership Study, 2022

Working with Carter Reed, our sales representative at Ballantine Communications, has been a delight. His exceptional responsiveness and professionalism coupled with a great attitude have made our experience truly enjoyable.
~ Jenny J Taylor, Communications Manager La Plata Electric Association

Ballantine offers a unique community perspective which allows businesses and individuals to actively participate in our region's essential literature and events. Their representatives are extremely helpful and fun to work with, including our Rock Stars Carter R. with the Durango Herald and Matthew W. with Directory Plus!
~ Margaret at Durango Nursery & Supply

Star Liquors has been serving Durango and the Four Corners area for over 35 years and we have used Directory Plus for 23 of those years to help our customers reach us for their libation needs. We are locally owned and operate as a friendly neighborhood liquor, beer, and wine destination store.
~ Tamara V., Manager of Star Liquors

We have been advertising in the Red Book for over 10 years. Directory Plus continues to provide value in advertising my business. I know that with Directory Plus, our next customer is just a phone call away.
~ Terry Bowers and Family, Owner of Guardian Pest Control

We have been advertising in Directory Plus for over 25 years since our business started. We continue to see results year after year. It has always provided a great return on our investment.
~ Caden Rezek, Owner of Best Cleaning & Disaster Restoration Services Inc.

We Advertise in both Southwest Colorado and Farmington, NM area books. Directory Plus is an easy way for home owners across the entire four corners to reach us.
~ Kevin Lucero, Owner of Magic Roofing & Construction

Over the years, I've been gratified to work with BCI on print, digital, video, and social media projects. I've found that they think beyond the short term, considering brand stewardship as their overarching mission. They work efficiently and with a genuine desire to realize the best result for their clients. They prioritize relationships, fair dealing and product quality. I would not flinch in recommending their services to any professional organization that cares about its client relationships!
~ Alex Shelley, Communications Executive San Miguel Power Association

BCI Media has been one of the best social marketing companies I have had the pleasure to work with. Not only have they helped increase our online presence, but are always looking for ways to improve it. They are always there to answer questions and are very friendly to work with. You can only win by working with BCI Media!
~ Roger Sterling, Southwest Appliance

Ballentine hosted us at the 2023 Home and Ranch Show. It was a great event highlighting small businesses in the region. We made many new connections and had an excellent experience networking with other vendors, and attendees. Ballantine was organized and professional and they were very supportive from start to finish.
~ Mike Wagner, owner

I just wanted to share a quick note and let you know that you guys do a fantastic good job. I'm glad we decided to work with you. It's really great how easy it was to talk to Georgiana Hallock and Michele Wayne about our needs all through winter with a wonderful execution throughout our busy season. We appreciate you Ballantine Communications!
~ Tico Time River Resort

In 2023, I was a vendor at two events organized by Ballantine Events. Georgiana was a pleasure to work with; she is communicative and very well organized.
~ Callie Ruh, Owner & Artist Tuscan Sun Boutique
Quick Stats
---
Magazines Distributed Per Year
Website Visitors Per Year